PRF Biologics for Hair Rejuvenation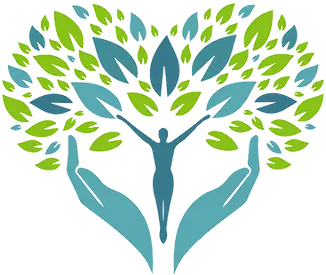 What Is PRF Hair Restoration?
Hair loss is a major concern for a number of adults, whether it's brought on by age, genetics, hormones, health conditions, or from styling products or practices. With current advances in research within the hair restoration industry, new treatments have been created to help fight the problem. Platelet-rich fibrin, or PRF, is an advanced nonsurgical treatment for people that are showing remarkable benefits in slowing, stopping, and even reversing hair loss. PRF has also shown promising results in individuals with alopecia areata and thinning eyebrows. Dr. Richard Ruff of Skin Retouch MediSpa is one of only a small handful of hair restoration surgeons to supply this innovative therapy in Heath, OH. By mixing a powerful solution of growth factors and bioactive proteins, Dr. Ruff can help to strengthen the function of your hair, leading to thicker, longer, healthier locks.
IS PRF HAIR RESTORATION RIGHT FOR ME?
Any patient suffering from hair loss is potentially an excellent candidate for PRF treatments, but those with early hair loss typically respond best. PRF is best used for those with androgenic alopecia, an inherited type of hair loss that mostly presents along the top part of the head. For women, this can appear as a broadening part with regular hair thickness at the back of the head. Those with parts of "weak quality" hair growth of the scalp with normally reacting hair follicles usually have the greatest results with PRF hair regrowth treatments.
HOW IS PRF HAIR RESTORATION PERFORMED?
A minimally invasive procedure, the PRF therapy is a brief 60-minute in-office visit. The procedure starts with our staff drawing a little bit of your blood and putting it in a special machine, which spins the blood at high speed to separate the platelets from the remainder of the blood components. Next, a local anesthetic is administered to your scalp, and the platelet-rich fibrin is introduced into parts of your head that are bald or thinning. Finally, microneedling is performed on the scalp to create micro-trauma and micro-channels to the epidermis, which triggers the PRF and allows it to seep deep into the skin. Our protocol for nonsurgical management of hair loss involves the initial therapy as well as maintenance treatments approximately every nine months to one year.
WHAT RESULTS CAN I EXPECT FROM PRF HAIR RESTORATION?
There is no downtime following this process, with practically no limitations or restrictions. If anything, patients can develop some redness, minor swelling, and mild tenderness to the treated regions. These symptoms can last up to two days. While results differ for each individual, cosmetic results are usually seen approximately 4 – 6 months after the first treatment and may continue to improve for as much as a full year following treatment. As PRF isn't a permanent solution for reversing hair loss, repeat treatments are highly recommended every 12 – 18 months. It is very important to be aware that PRF does not grow new hair follicles in areas where you are already bald. It's used to help reverse the miniaturization of hair follicles — so they will create fuller, healthier, longer hair fibers.
PRF hair restoration is a clinically backed alternative for people struggling to find hair loss solutions. At Skin Retouch MediSpa, we are proud to provide effective solutions to efficiently address hair loss. To find out more about PRF therapy, we invite you to contact our Heath, OH office and schedule a consultation with Dr. Richard Ruff.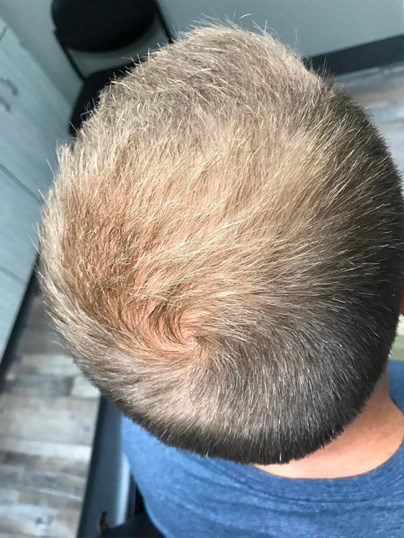 Client Photo 8 weeks PRF
NO chemicals, just your own platelets getting blood flow and hair growth. This patient was very good at home care as well. Using a red light cap and peptides can speed things up. ONLY 1 TREATMENT SO FAR.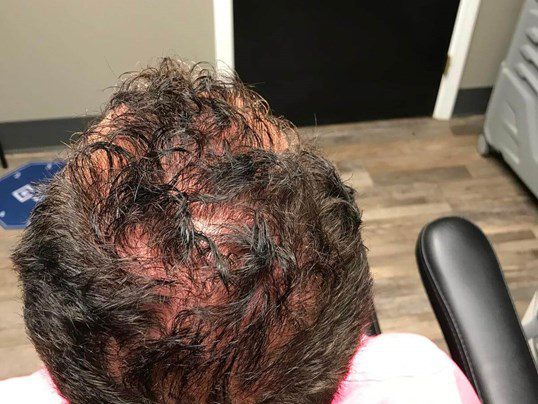 Stem cells for Hair Regeneration
No red light cap at home, just peptides and PRF injections with Hannah. Already at 6 weeks a great deal of new growth and a very happy customer.  This patient presented with hair loss and thinning hair.  Our Nurse Practitioner started him with 2 rounds of PRP and home peptide use.  At round 2, the photos are showing tremendous changes.  And we aren't finished yet!
Are you unsure of what you need?
Sign up for our virtual consultation to take the guesswork out of what service is best for you!