Membership comes with amazing savings and perks that we don't offer to each and every customer.  When you sign on for our annual membership program you sign on as a VIP with Skin Retouch MediSpa.  Not only will you save on your treatments with the spa, you will get monthly discounts and exclusive offers.  We want to reward your commitment to your skin, body, youth and confidence.  Self care is not selfish.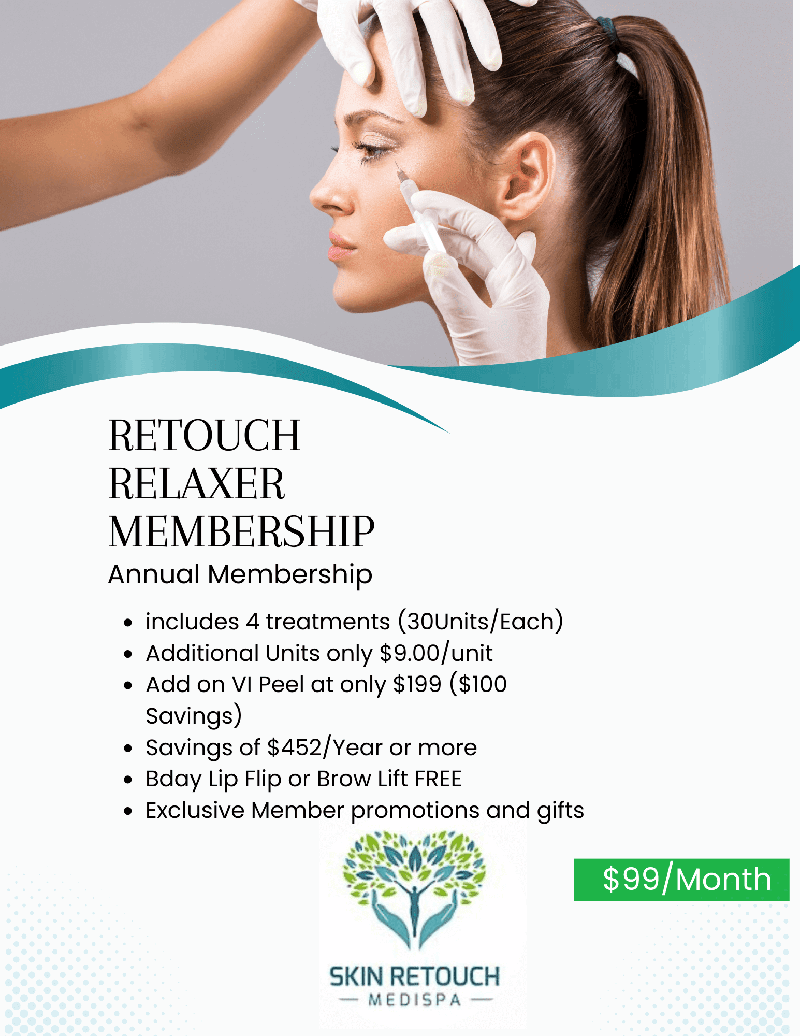 Retouch Relaxer Membership
This membership is for Jeuveau injections every 3 months.  When you book every 90 days for tox, you don't allow your wrinkles a chance to establish permanent residence on your face.  All neuromodulators are on the label to last 90 days, anything past that time frame would allow your muscles to get stronger than we/you want them to!  If you're ready to commit to looking younger with fewer lines, why not jump into this cost-saving membership and commit to looking your best this year!  You will get;
30 Units of Jeuveau every 90 days

Any additional Units for $9.00/Unit

Add on a VI Peel at any time for only $199 (save $100)

Free Birthday Brow Lift of Lip Flip

10% off of all retail products/Medical Grade Skin Care

Exclusive Member Promotions/Events & Gifts

Savings start at almost $500
Retouch Revitalize Membership
The perfect membership for the patient who loves to soften fine lines and also fill those deeper lines.  Our Revitalize membership comes with toxin every 90 days along with substantial savings on each filler of syringe you purchase.  The perfect membership topper is that any package you buy under this membership comes with 25% off savings.  The benefits of the revitalized package are unbeatable!  With an annual membership of Retouch Revitalize each person will receive;
30 Units of Jeuveau every 90 days

Any additional Jeuveau at only $8.00/Unit

Add on VI Peels for only $199 (save $100)

Fillers are $100 off each syringe 

Any package purchased is discounted 25% off

Free Birthday Lip Flip or Brow Lift

Exclusive member promotions/events and gifts

Retail products are 20% off medical-grade skincare

Savings start at over $550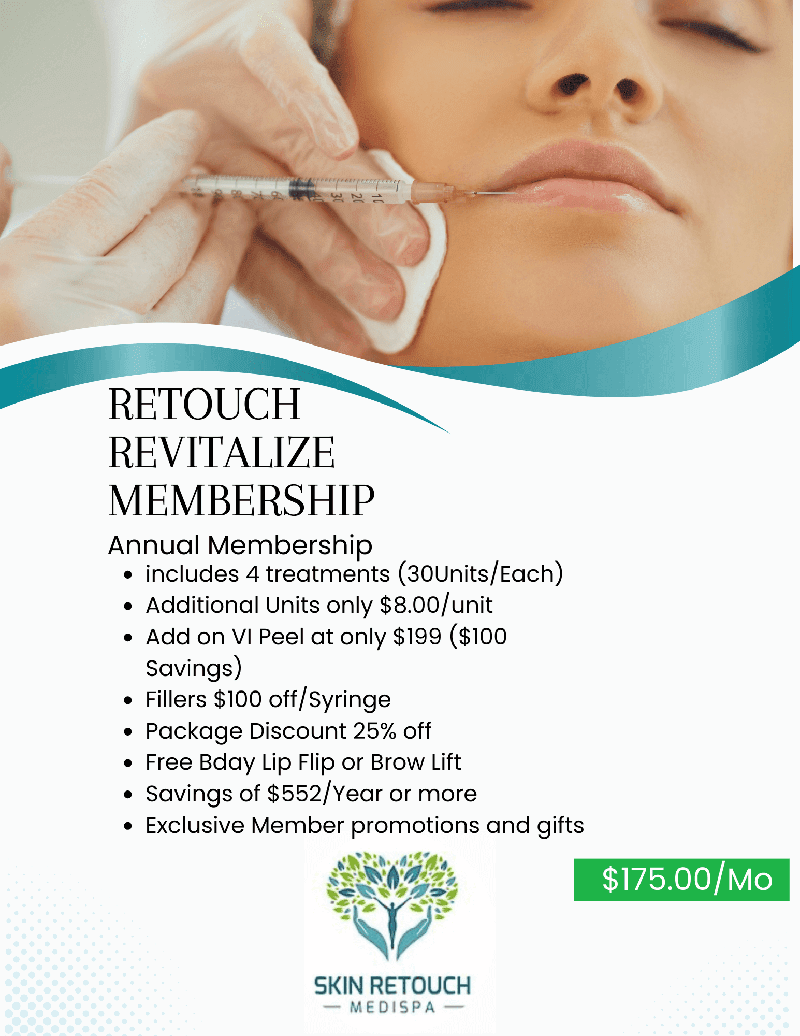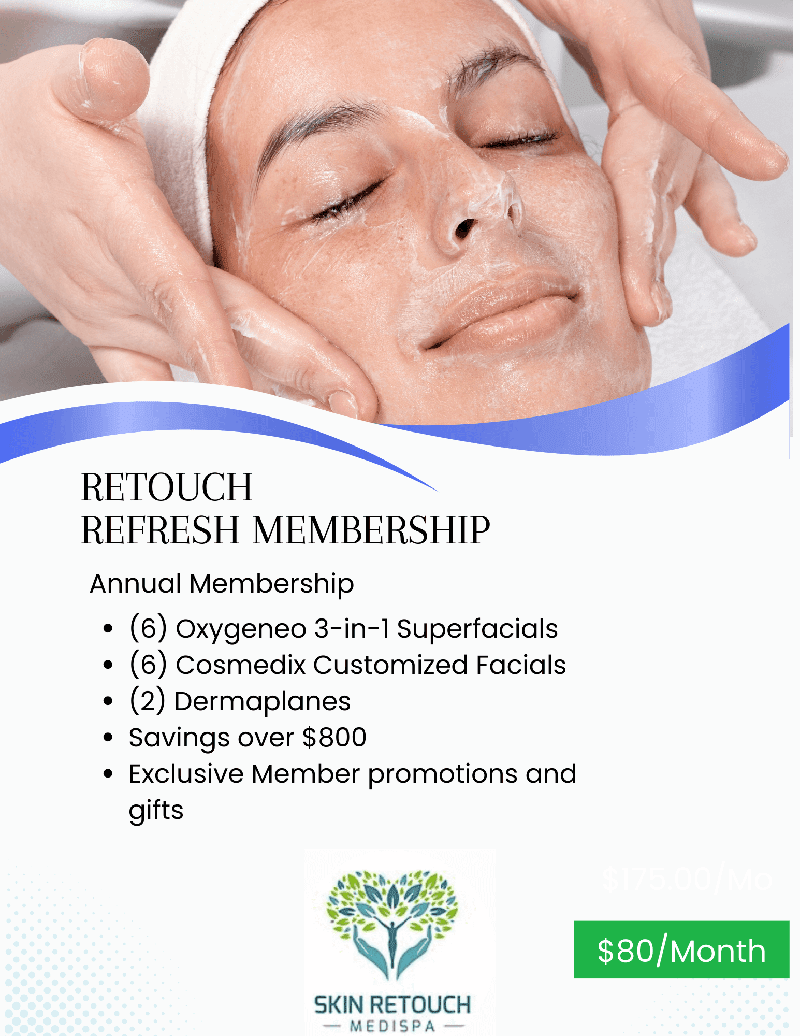 Retouch Refresh Membership
The picture-perfect membership for any client who loves to take great care of their skin.  This will have you glowing year-round.  Our skincare experts will treat you to a monthly facial.  The best of both worlds, you will get either an Oxygeneo 3-in-1 superficial OR a customized Cosmedix facial.  These facials work to plump the skin and get you looking photo-ready every day of the month.  Our Refresh membership comes with an amazing savings of over $800!  If you don't take care of your skin you are ignoring your body's biggest organ.  Refresh your face and pamper yourself with this winning membership program.  The annual membership includes;
(6) Oxygeneo 3-in-1 Superfacial.  Exfoliate*Oxygenate*& Nourish 

(6) Cosmedix customized (to your specific skin needs) facials

(2) Wet Dermaplanes

Savings of over $800 annually

Exclusive member-only events/promotions and discounts.
Retouch Rebuild Annual Membership
Rebuild your body with Skin Retouch MediSpa and two of our amazing non-invasive body sculpting devices.  Non-surgical weight loss at its BEST.  The Retouch Rebuild starts off with 1 Sculpt by Sentient (2 zone) body sculpting treatments followed immediately by an Emsculpt NEO treatment on the same area.  We then treat with the NEO 5 more times, one time per week.  This initial jumpstart to the rebuild is done for $3000 with a value of $6800.00.  The initial jumpstart is followed by 1x monthly Sculpt treatments for 3 months and the Sculpt gets followed by monthly Emsculpt NEO treatments.  This membership is the revenge body on steroids membership.  Outsource your workouts and get that tight, toned look with the Rebuild membership.  Better bodies are made here!
6 Emsculpt NEO/1 Sculpt in the first 6 weeks

One Sculpt per month for 3 months (2 zones)

8 months of Emsculpt NEO maintenance treatments

More for Less, more muscle less fat, less cellulite, less loose skin!

Exclusive member-only promotions/events and discounts

Savings of over $4000 annually