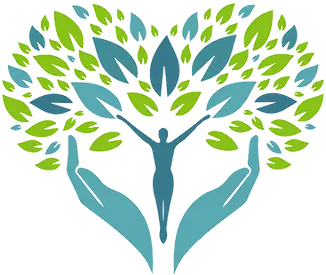 What are PDO Thread Lifts?
At Skin Retouch MediSpa,  we offer  Columbus, OH and surrounding area patients polydioxanone (PDO) threads as a wonderful and effective alternative to a surgical facelift. PDO threads are used to address mild to moderate signs of aging, like skin laxity and hollowness. This minimally invasive procedure starts by threading surgical-grade PDO threads (or fibers) through your trouble area, like sagging skin, and will gently be tugged and positioned to create a lifting effect. The threads will work to keep your face lifted at the same time as encouraging collagen and elastin growth, which will naturally heal and strengthen your skin. Over time, the threads will safely dissolve into the body. For more information or to schedule a consultation, contact our office today.

WHO IS A CANDIDATE FOR A PDO THREAD LIFT?
A PDO thread lift is an excellent option for both women and men who want to tighten and improve the skin of their faces for a refreshed, younger look without plastic surgery or dermal fillers. A PDO thread lift can improve the appearance of:
Sagging skin, especially in the jowls or under-chin areas
Wrinkles and fine lines
Loss of skin tone
Dull complexion
WHAT CAN I EXPECT FROM MY PDO THREAD TREATMENT?
PDO threads can be used a few different ways — twist threads can be used as fillers to add volume, lift threads can lift the thread, and smooth threads are used to address fine lines, like Crow's feet. During your initial consultation, we'll review what the best thread treatment for your overall goals will be. On the day of your appointment, someone from our Heath, OH team will perform your thread lift with local anesthesia. While you'll be awake for this hour-long or so procedure, the anesthesia will keep you comfortable. We'll mark the spots on your face where the threads will enter and exit, then use a very fine needle to insert the threads into your skin. Once placed, we'll very gently pull on the threads to provide the lifted effect. After your procedure, you'll likely notice results right away while the twist and smooth threads could take between 2 – 3 months to fully appear. It could take the treatment areas a week or two to heal so you may have some soreness and redness, but you will notice smoother, refreshed skin for a year or more.
SUBTLE, NATURAL-LOOKING LIFT
Thread lifts are minimally invasive procedures that are able to provide long-lasting, beautiful results. If you are noticing the first signs of aging or perhaps have lines and wrinkles due to smoking, excessive squinting, or frowning, a thread lift can refresh and firm up your appearance. Contact Skin Retouch MediSpa in Heath, OH to set up your consultation, and see if a PDO thread lift will work for you.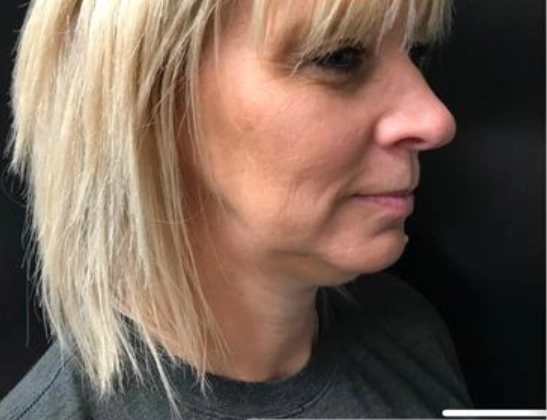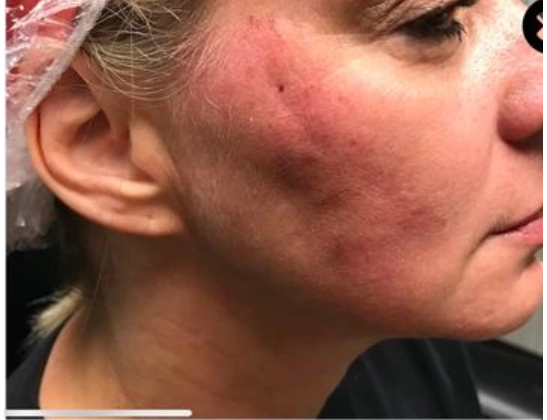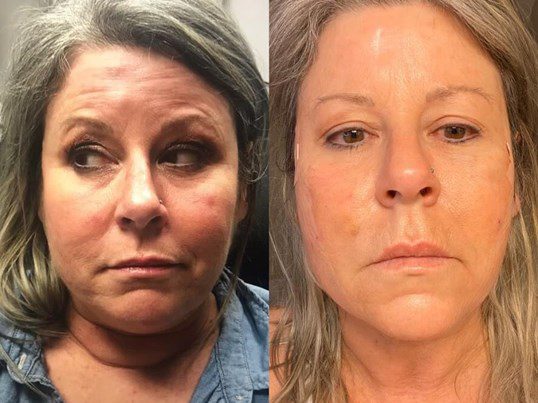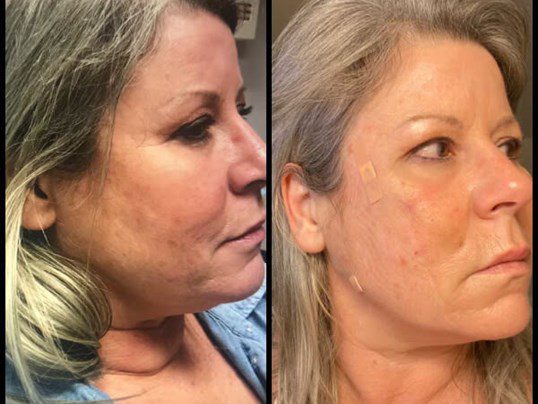 Patient was bothered by laxity in the jaw line. We addressed laxity and lifted with PDO Threads.
No, most patients won't experience much discomfort during their PDO thread lift. Before the procedure, we will numb the treatment area with a local anesthetic to keep you comfortable. For a week or two after the procedure, some patients may experience mild swelling, redness, or tenderness, but this typically goes away quickly.
Most patients can have their PDO thread lift completed in about an hour.
Some patients can see results almost immediately or within days. However, most will begin to see noticeable results after four weeks and the full results around 2 – 3 months as the skin adjusts and the threads begin to dissolve, stimulating the production of collagen and elastin.
Generally, patients can expect their results to last about 12 – 18 months before a maintenance procedure may be needed.
Are you unsure of what you need?
Sign up for our virtual consultation to take the guesswork out of what service is best for you!